It is a cold and very yucky day! I woke up to a mess. Ice is covering everything! It's still freezing rain and now there's some sleet coming down. We may get a mix of snow later on. It is way too early for any of this mess.
One of my favorite meals is Italian Breaded Pork Chops. Everybody in my family loves these! Which is a huge plus for me. I fixed these the other night, but completely forgot to take pictures. Oh well… I'll share the recipe and you can see how delicious they look for yourself.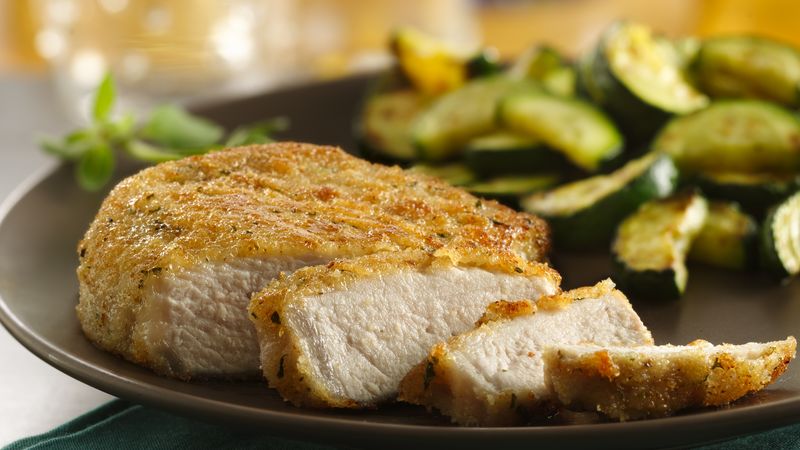 The recipe and nutrition information can be found here: Italian Breaded Pork Chops
Ingredients
4 boneless pork loin chops (1 lb)
1/4 cup Gold Medal™ all-purpose flour
1/2 teaspoon seasoned salt
1/4 teaspoon garlic powder
1/2 cup seasoned dry bread crumbs
2 tablespoons olive or vegetable oil
Shredded or shaved Parmesan cheese, if desired
Steps
1. Between pieces of plastic wrap or waxed paper, place each pork chop; gently pound with flat side of meat mallet or rolling pin until about 1/4 inch thick.
2. In shallow bowl, mix flour, seasoned salt and garlic powder. Place milk and bread crumbs in separate shallow bowls. Dip each pork chop in flour mixture, then dip in milk. Coat well with bread crumbs.
3. In 12-inch skillet, heat oil over medium heat. Cook pork in oil 6 to 8 minutes, turning once, until browned on outside and slightly pink in center. Sprinkle with cheese.
---
That's it! They are very easy and quick to make. I love simple and quick dinners! I usually fix these with mashed potatoes, green beans and rolls. Sometimes I pair them with mac and cheese.
Enjoy!
Have a blessed day!